ABOUT THIS WATCH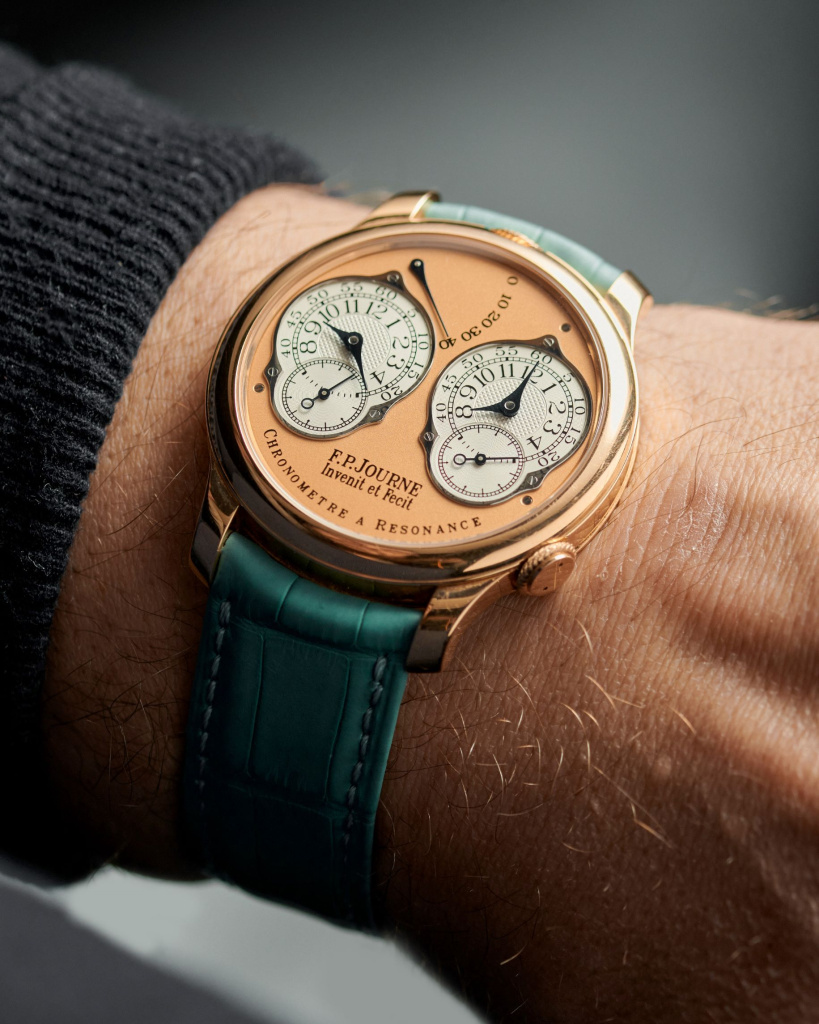 François-Paul Journe is one of the few watchmakers to have developed a wristwatch with a twin movement and resonance effect. Resonance is a physical phenomenon of interaction between two independent systems, which are characterized by oscillations with close frequencies. With a strong resonance, both systems begin to operate at the same frequency, that is, in relation to timepiece mechanisms, the two mechanisms begin to move synchronously. Mechanical resonance in clocks was discovered in the 17th century by the famous Dutch scientist Christian Huygens, before the French watchmaker Antide Janvier was able to apply this effect for the first time in a pendulum clock in 1780, with Abraham-Louis Breguet implementing it in a pocket watch in 1814. François-Paul Journe began experimenting with resonance in his early pocket watch in 1983, however, success in applying this physical phenomenon came later, when he undertook the development of the Chronomètre à Résonance wristwatch in the late 1990s. His resonance caliber uses the aerodynamic interaction of the balances of the twin mechanism. Currently, this is the only brand to offer serial production of wristwatches with an aerodynamic resonance system.
The present lot features a beautiful second-generation hand-wound F. P. Journe 1499.2 caliber, developed to a high standard, hand-finished on all parts, including chamfering and polishing, with a 18k rose gold mainplate and bridges finely decorated with côtes de Genève and perlage.
Production of the Chronomètre à Résonance watch began in 2000. The watch featured the caliber 1499 (1st generation) with a rhodium-plated brass mainplate and bridges, the first wristwatch caliber utilizing the aerodynamic resonance phenomenon. Thejourneguy.com indicates that just under 400 of this series have been made (this number does not include watches from the Ruthenium limited edition). In late 2004, F. P. Journe started production of the 2nd generation caliber 1499.2, with the mainplate and bridges in solid 18k pink gold, as in the present lot. The watch of the second generation received the nickname Résonance Nouveau, respectively, the reference is designated as RN. Later, in 2010, the caliber 1499.2 was replaced by the 1499.3 version in solid gold and with a newly-introduced 24-hour zone time digital indication system. Caliber 1499.3 was discontinued in 2020. We should also point out another unusual feature of this watch – the method of marking the power reserve indicator, made in the tradition of chronometers of the 19th century. The pointer hand indicates the time elapsed after the complete winding of the mechanism, meaning, when fully wound, it points to zero.
F. P. Journe has produced more timepieces cased in platinum than pink gold making the present example in pink gold with matt rose gold dial even more covetable. Our estimates show that approximately 1/6 to 1/4 of the production was rose gold models, which had two dial options, in matte rose gold, like the present example, or in matte white gold.