ABOUT THIS WATCH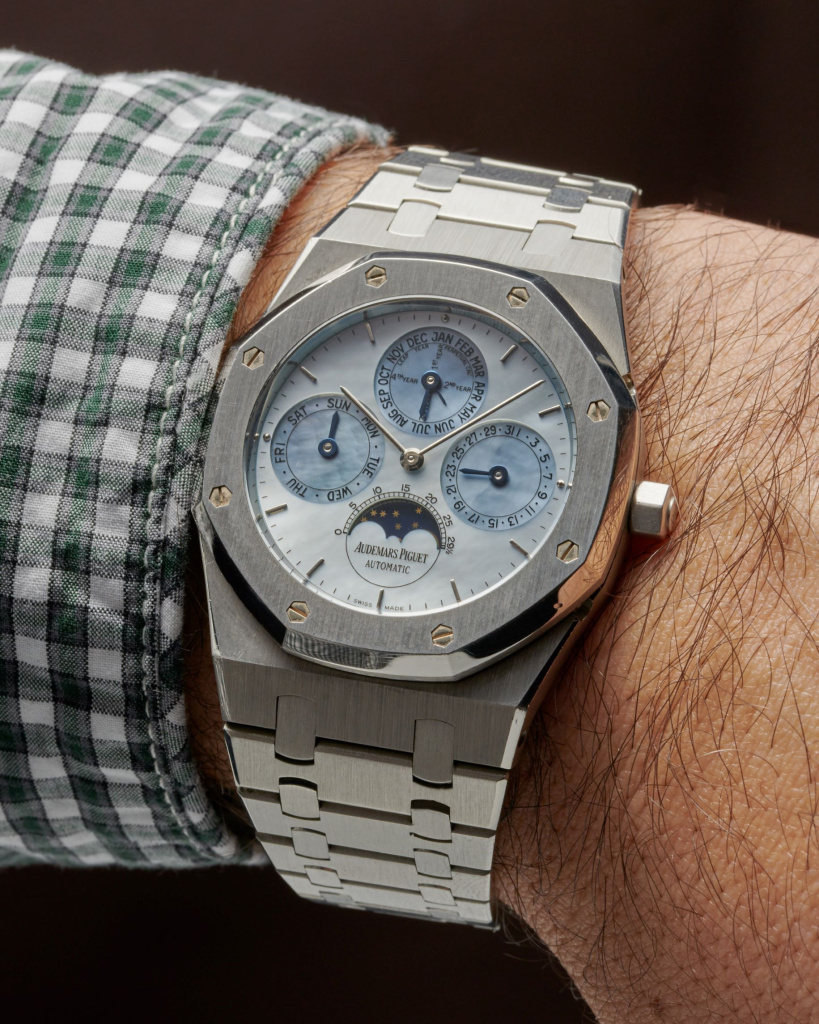 Royal Oak Perpetual Calendar wristwatches, produced by Audemars Piguet from 1983 to the present, are attracting more and more collectors' attention. Along with the standard references, which are well represented on the market, there are rare varieties and references that, from our point of view, have excellent prospects. This piece seems to us to be extremely rare, mysterious and elusive – due to its rarity, this version of reference 25820 almost flies under the radar of experts' attention, and therefore there is a lack of verified information about it despite it deserving the closest attention. We managed to find only one example that has surfaced at auction – at the Antiquorum sale in 2006, without a mention of the reference. A handful of watches have appeared on the market with a reference of 25686, obviously indicated erroneously.
We believe the present lot belongs to the early period of reference 25820, which began in 1998 and ended in the early 2000s. The launch of this reference was associated with the modernisation of the ultra-thin automatic caliber 2120/2800, which received a leap year indicator it had previously been missing. The updated caliber was designated 2120/2802. A characteristic feature of the early period watches of this reference is the stick-shaped hour and minute hands, which are strikingly different from the original 1972 Royal Oak hands. Such original hands may be referred to as 'Gérald Genta original' hands, having a rounded 'baton' shape and filled with phosphor, while the 'stick' hands do not have a luminescent coating. Obviously, the choice in favour of the option with 'stick' hands was made in view of the intention to ensure the least overlap of the hour and minute hands of the counters of the perpetual calendar.
We are proud to bring to your attention this example, which is one of the rarest Royal Oak Perpetual Calendars ever made. Other execution features, both rare and typical for this reference, undoubtedly increase the attractiveness of the present lot. Its nice double-zero number seems to be the icing on the cake.
The present example is fitted with stick-shaped hands in addition to a set of rare features which enhance its exclusivity. The first is the platinum case and bracelet – production of platinum Royal Oak Perpetual Calendars was very limited. Second is the light blue mother-of-pearl dial, an option that also appears very rarely on the Royal Oak Perpetual Calendar. Finally, this example features a dial design very rare for this reference, which we refer to as 'sticks and pearls.' It should be noted that this design appears in the earliest Royal Oak Perpetual Calendar Ref. 5554/25554, featuring flat dials. It then appears in similar models of the second generation (reference 25654), as well as in the short-lived reference 25686, which was launched in 1996. Then, after the launch of reference 25820 in 1998, some of its versions were also equipped with a dial of this particular design, including extremely rare examples with a mother-of-pearl dial. We have found evidence of such versions being produced in yellow gold, stainless steel or platinum (as in the present example). It should be borne in mind that Audemars Piguet usually reserves mother-of-pearl dials for gem-set versions.